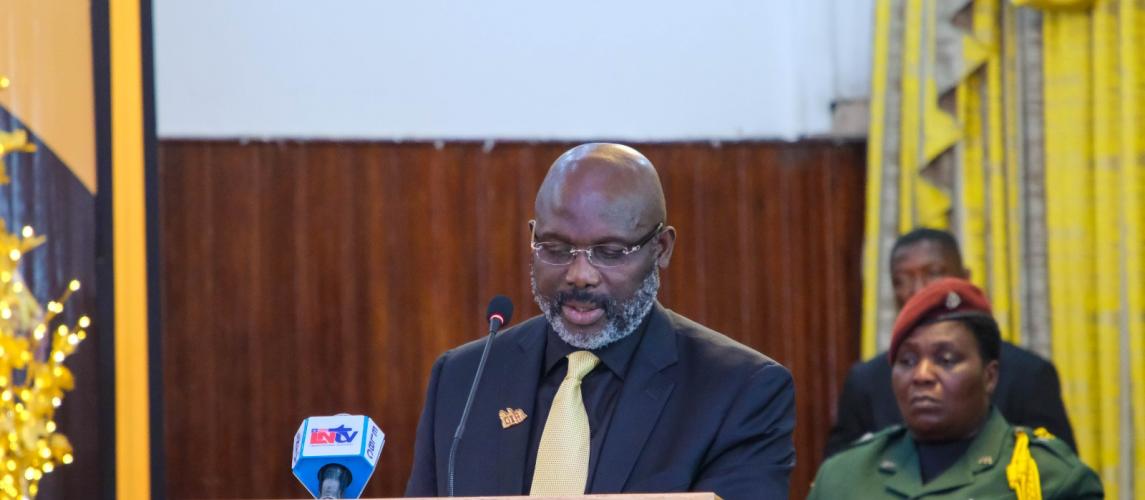 President Weah Hails Golden Image Awards as National Pride Promoting Peace and Development
Monrovia, Liberia - The President of the Republic, H.E. Dr. George Manneh Weah has hailed the Golden Image Awards (GIA) as a national pride that promotes peace, unity, reconciliation, and development. 
President Weah said the future of the GIA remains bright and pledged Government's continued support to the organizer, the Crusaders for Peace, in its works to advance national peace and reconciliation.
The Golden Image Awards is Liberia's version of "the Oscars" in the US. It was launched in 2011 by the Liberia Crusaders for Peace to honor and recognize local and international personalities who have made great impacts on their societies.
In a special statement at this year's ceremony on Friday, July 21, 2023 at the Monrovia City Hall, President Weah noted that a Golden Image Award has begun a national tradition every year giving due recognition to individuals and institutions that have distinguished themselves during the past year in their daily undertakings.
He expressed optimism that the awards that are won collectively and individually would serve as an inspiration and a catalyst spurring works and deeds that give the honorees worthy recognition.
"This year is also a special celebration in our collective quest to show the world, yet again, about our commitment to advance our democratic credentials by holding free, fair, transparent, and democratic elections that will satisfy international standards," the President asserted, stating that he was of the conviction that such an undertaking will demonstrate to the world that Liberia has truly turned the page from its recent checkered history, and is now on an irreversible path of enduring peace and lasting democracy.
President Weah also weighed in on the pending October 10 polls, saying that the theme of this year's Awards, "Giving Hope to Our People Through Peace, Non-Violence and Credible Elections", could not have been a clearer clarion call.
"It signifies a strong commission to demonstrate to the world our collective resolve to keeping our democratic credentials on track."
He continued: "No matter how deep our political cleavages and differences, we will go to the polls avoiding any form of violence, in order to choose our leaders in an atmosphere of peace."
President Weah used the occasion to once again assure Liberians and the wider international community that his government would meet all expectations by conducting free, fair, transparent, and credible elections. 
"I want to use this occasion tonight to again signal to the world our unwavering commitment to a peaceful, free, fair, transparent, and democratic process."
He said this year's Independence Celebration will be a renewed vigor and hope, based on the premise that the country is headed in the right direction, reminding Liberians of the importance of holding together "as doing so will bring solutions to address the many challenges that have faced us as a result of the devastation and destruction that was caused by our prolonged civil war".
The country observes 176 years of independence next Wednesday with befitting elaborate programs.
President Weah thanked Ambassador Julie Endee and the Crusaders for Peace, organizers of the Golden Image Awards, for putting together such a splendid program.