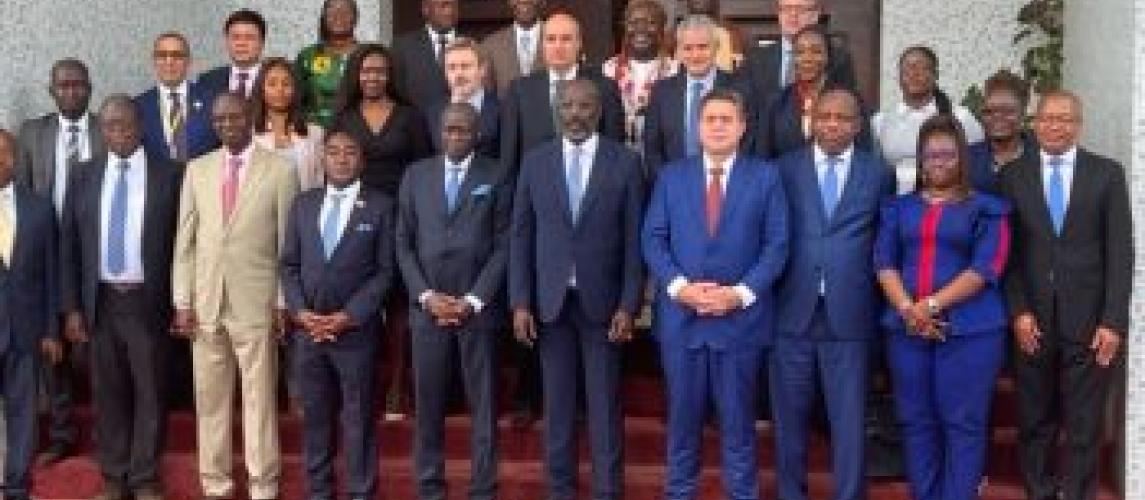 President Weah Hails World Bank Support to Liberia, Describing it Evidence of Strong Partnership
Monrovia, Liberia - The President of the Republic, H.E. Dr. George Manneh Weah has extolled the World Bank for its continuous redemptive support to Liberia's development needs over the past years, mainly during his term.
 
President Weah expressed delight about the fact that the World Bank continues to be a key development partner for Liberia, particularly its unreserved support to his government's national development program, the Pro-Poor Agenda for Prosperity and Development (PAPD).
 
President Weah made the statement Wednesday, February 15, 2023, at a dinner reception held in honor of Mr. Ousmane Diagana, visiting World Bank Regional Vice President for Western and Central Africa.
 
The President acknowledged the Bank's increased support to Liberia, which has grown significantly, with national IDA commitments doubling from just under $500 million US dollars to close to $1 billion US dollars from 2019.
 
"This is a manifestation of the confidence that the Bank has in my Government's vision for our Country," the Liberian President noted, emphasizing that such a support aligns with Government's strategic approach to finding lasting solutions to the problems that have plagued the Liberian people for years.
 
The President has, however, described the endless engagements between the country and the World Bank as "raw evidence of true partnership."
 
President Weah said the partnership has shown that the Bank is not only in Liberia to support the government financially, but also to help mobilize even more resources from other sources in order to bridge our infrastructure deficit, especially in the road and energy sectors.
 
The Liberian Leader assured the World Bank that his government would continue to do its part in ensuring that the partnership works in the supreme interest of the Liberian people. 
 
The President used the opportunity to thank other development partners for their support to Liberia, and said that he was looking forward to their commitment of more resources to fulfill the dreams, aspirations, and hopes of the people of Liberia.
 
He expressed gratitude for the World Bank team headed by Mr. Pierre Laporte, Regional Manager of the World Bank for Liberia, Ghana and Sierra Leone; and Mr. Khwima Nthara, Country Manager of the World Bank for Liberia.
 
"They have worked tirelessly to ensure that Liberia derives the maximum possible benefit from this long-established partnership with your venerable Institution, and my Government is deeply appreciative of their positive contributions to our development discourse," he said.
President Weah paid special tribute to Mr. Pierre, whose tour of duty in Liberia will end very soon, said that his administration would definitely miss him.
 
President Weah jokingly challenged the WB Regional Vice President to find a successor to Pierre that will be as good and effective as he is, or even better.