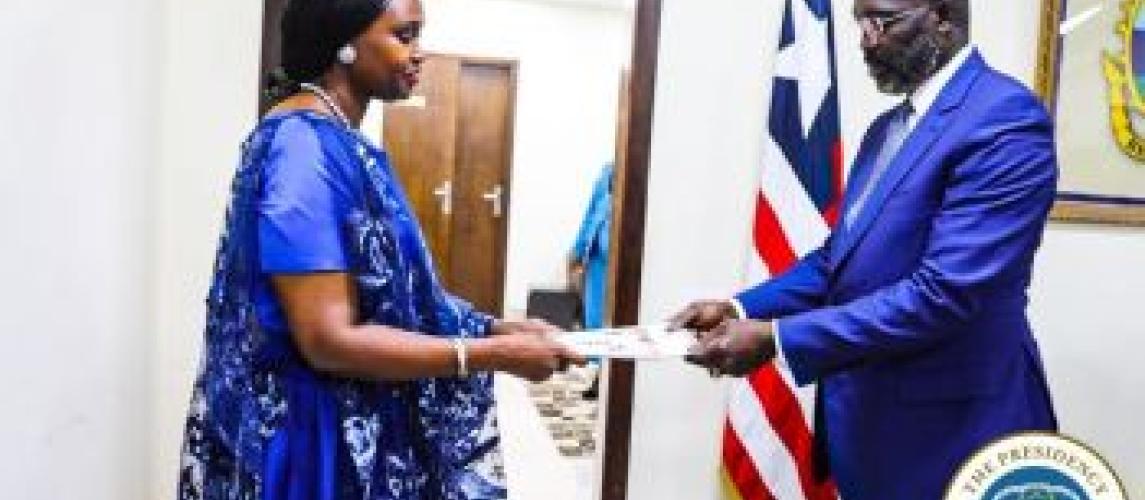 President Weah Receives Letter of Credence from New UN Resident Coordinator
Monrovia, Liberia - The President of the Republic, H E. Dr. George Manneh Weah, on Tuesday, February 14, 2023, received the Letter of Credence from the newly appointed United Nations (UN) Resident Coordinator to Liberia, Ambassador Christine Umutoni
 
During a brief ceremony at the Executive Mansion, President Weah congratulated Madam Umutoni for her preferment to head the UN Mission in Liberia. He expressed optimism that her stay here would go a long way in enhancing the longtime cooperation between Liberia and the UN.
 
The Liberian Leader reflected on Liberia's role in the formation of the United Nations several years ago, and also thanked UN Secretary General Antonio Guterres for the excellent role he continues to play in upholding and promoting the values and integrity of the world body.
 
President Weah assured the new UN Resident Coordinator of his unflinching support to the new UN Envoy towards the successful discharge of her tour of duties in Liberia.
 
In response, Ms. Umutoni expressed gratitude for the reception accorded her by President Weah. She conveyed special greetings from Secretary General Antonio Guterres.
 
The new UN Resident Coordinator pledged to continue to promote the existing partnership with Liberia for the attainment of the goals of the UN.
 
She also commended the president for the continuous partnership he is fostering with the UN in the promotion of peace, security, and women empowerment.
 
Ms. Umutoni described the Liberian President as an inspiration not only to the youth of Liberia but also to the entire world.
 
Ms. Umutoni, a Rwandan, replaces Mr. Niels Scott, whose tenure as UN Resident Coordinator in Liberia, has ended.
 
The ceremony was attended by the Minister of Foreign Affairs, Dee-Maxwell Saah Kemayah; Minister of State for Presidential Affairs, G. Wesseh Blamoh and the Legal Advisor to the President, Cllr. Archibald Bernard.