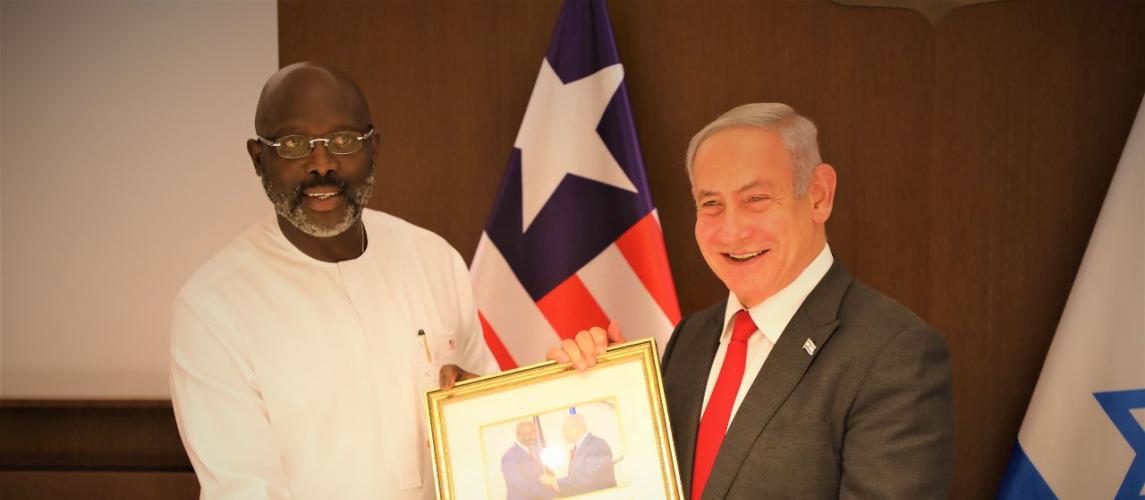 President Weah Receives One of Israel's Most Prestigious Awards
Jerusalem, Israel - The President of Liberia, H.E. Dr. George Manneh Weah has received the Friends of Zion (FOZ) award - an internationally noted prestigious award - bestowed on eminent personalities who support the virtues and rights of the Jewish State of Israel. 
Dr. Weah received the honor on Wednesday, July 5, 2023, at the Friends of Zion Museum in Jerusalem.
Presenting the Award, Michael Evans, President of FOZ, recounted President Weah's unwavering stance in support of the Jewish Nation, the State of Israel globally, including at the United Nations and other international forums.
"The Friends of Zion Museum is your home just as Israel is your home. If you support Israel, you support the Jewish people," Mr. Evans maintained. 
Speaking further, the FOZ President said President Weah has demonstrated support for the state of Israel on the African continent and global summits.
Earlier, the Israeli Foreign Minister Eli Cohen heaped praises on President Weah not only for his support for the Jewish Nation but also for the great job being done in Liberia and his advocacy for global peace and security 
"You are doing great work for the people of Liberia. You have stood and continue to stand for the rights of the Jewish Nation and the world," the Min. Cohen asserted further. 
"President Weah deserves the award."
Minister Cohen promised Israel's unwavering commitment to President Weah and the people of Liberia. 
Responding, the Liberian Chief Executive thanked the Friends of Zion for the award and reiterated his commitment to the just cause of the Jewish Nation and to world peace.
"This award is a motivation for me to continue what I have been doing for the Jewish people and Israel," President Weah said.
The Friends of Zion Award, since its inception, has been given to presidents and diplomats who fought and advocated for the rights and existence of the Jewish Nation. 
The most recent honorees of the award are George W. Bush and Donald Trump, former presidents of the United States of America, as well as Mike Pence, former vice president of the US, as well.