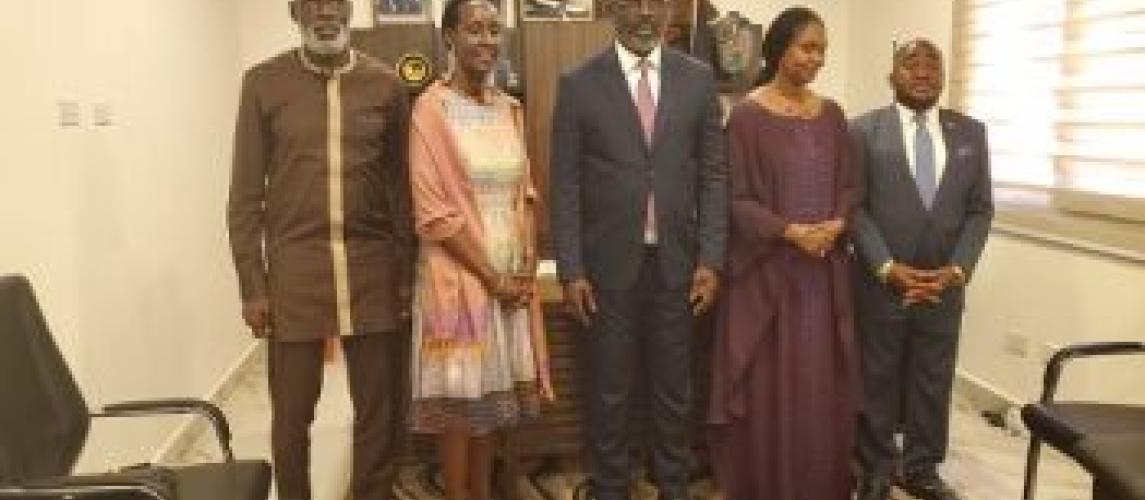 President Weah, UN Envoy Rap on Governance, Regional Peace and Security
Monrovia, Liberia
–
His Excellency President George Manneh Weah and the United Nations Secretary General Deputy Special Representative for West Africa and the SAHEL, Giovanie Biha, have stressed the need for peace and security in the Mano River Union and ECOWAS countries, as well as the wider SAHEL.
Speaking during a meeting at the Jamaica Resort on Monday, April 3, when the UN official paid a courtesy call on the Liberian Leader, they both urged collective effort in addressing the challenges of the regions.
The UN Special Deputy Representative thanked President Weah for the progress Liberia has made under his leadership - including upholding the tenets of democracy, peace, and security - and the President's role in addressing crises in the subregion. 
"Peace and stability are very important for the growth and development of any country", Madam Biha said.
She also commended the Liberian Leader for his efforts in empowering women, as well as his nomination of a new female Secretary General to the Mano River Union.
The UN Representative called on President Weah, who is a former Peace Ambassador, to continue working with the International Community in order to ensure good governance is upheld in the MRU and  SAHEL regions, where she acknowledged there's looming "threat of insecurity".
Madam Biha described the Mano River Union as a "good platform" to maintain regional peace and security as well as strengthen the fight against corruption.
For his part, President Weah promised to work collaboratively with the UN and other global and regional bodies to help maintain peace in Liberia and the subregion.
He restated his unwavering commitment to ensure the upcoming elections in October are free, fair, and transparent while pledging Liberia's commitment to regional peace and security.
The President reiterated his strong support for women and youth empowerment, as he stressed the indispensable role of women in society.
He said as a former UN and Liberia's Peace Ambassador,  "I remain unwavering to the promotion of democracy and rule of law".
The Liberian Leader indicated that Liberia's continuous participation in peacekeeping missions in Mali and other parts of the world is a testimony of Liberia's push for peace in the region. 
He frowned on rhetoric and utterances that could lead to violence. "Incitement and hate speeches by some political actors could undermine peace and democacry", the President said. 
Meanwhile, the Liberian Leader has urged Guinea, Mali, and Burkina Faso to return to constitutional rule. He promised  to work with regional leaders to ensure amicable solutions are found to the crises in the subregion.
The Minister of Foreign Affairs, Ambassador Dee-Maxwell Saah Kemayah  and Liberia Maritime Authority Commissioner Eugene Lenn Nagbe also attended the meeting.  The UN Envoy was accompanied by the United Nations Resident Coordinator for Liberia.