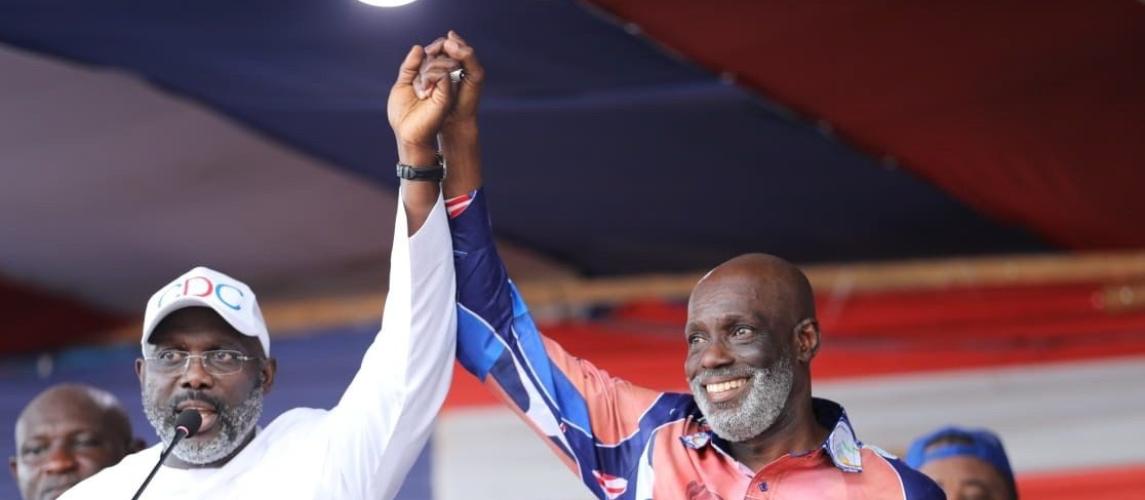 "We Must Maintain Progress Made And Advance Further More," Pres. Weah Asserts, Warning Against Comeback of Failed Politicians
Monrovia, Liberia - The President of the Republic and Standard-bearer of the Ruling Coalition for Democratic Change (CDC), Dr. George Manneh Weah, says Liberia has come too far and better with infrastructural and human capital development in the last five years of his presidency and that the most plausible and sensible thing to do is to embrace political continuity than let allow the resurgence of the failed political order. 
Addressing hundreds of thousands of CDCians and supporters on Monday, July 17, 2023 at the party's headquarters during program commemorating his achievements in five years of his presidency, President Weah defended his government's enviable progress expressed tangibly, among many other things, in improved road infrastructure, construction of more schools and hospitals as well as youth development.
The CDC flagbearer said in spite of the gigantic progress made, some remnants of the old guard have launched a campaign of lies and vilification, seeking to deceive the Liberian people, both at home and abroad, "about the unprecedented changes we are bringing about".
President Weah was, however, quick to point out that the people of Liberia are wise, tired of the relics of the past, and tired of old parked cars.
He said further: "As we approach the upcoming race, my competitors boast of experience. Yet, I stand before you today as the most experienced candidate, having served as president for the past five years. We have utilized our time in office to work tirelessly for the Liberian people. We have not squandered the opportunities that were entrusted to us."
President Weah noted that Liberia is not a test tube for failed experiments, emphasizing that the lives and futures of the people are at stake, that they deserve better, and deserve development.
"The improvements in our economy and infrastructure are evident for all to see. We are on an irreversible path of progress, a path that touches every sector of society," he asserted, adding that Liberia and its people have an inherent right to prosperity and development, just like any other nation in the world.
With the abundant human and natural resources the country possesses that are comparable to those of our neighbors and beyond, and as Africa's oldest Independent Republic, the President said it is disheartening that it cannot boast of corresponding development. 
He said, "It is even more disheartening that those who have contributed to this failure for over four decades are now raising their hands, seeking another chance to continue this sad narrative."
The CDC Standard Bearer implored Liberians not to be swayed by what he calls "the empty promises of the failed elite of this country."
Dr Weah said Liberians should not be tempted to drink the same old wine from the same old bottles, but instead recognize, embrace, and celebrate the generational change in national leadership that has taken place under his guidance.
"And when the time comes, let us exercise our precious franchise wisely to maintain this momentum."
Tracking tangible developments
In keeping with the real essence for Monday's congregation of CDCians and supporters which is to commemorate the achievements of his six years, President Weah recounted the strides and copious initiatives of his government that put the country on par with other countries.
"When my team and I assumed office in 2018, we were well aware of the enormous challenges that lay before us. Our economy was in dire need of revitalization, our road infrastructure was in disrepair, and our schools, hospitals, and market buildings were neglected. It was our duty to address these pressing issues and ensure a better future for all Liberians," the President asserted.
He said that in pursuit of progress during these six years, his government has achieved significant milestones, constructed hundreds of kilometers of roads, and transformed connectivity across the country. 
"Our efforts have extended to the education sector, built and rehabilitated numerous school buildings, in order to provide access to quality education for the youth," he said. 
"We have also focused on improving healthcare services by establishing new hospitals and investing in the well-being of our people."
He further asserted: "To secure a prosperous future for our young generation, We understand the importance of removing barriers that hinder their potential. That is why we introduced and implemented programs such as free tuition and fee payments for WASSCE and WAEC."
President Weah announced that the government's commitment does not stop there as they aim to expand all national programs that reach every young person in Liberia, regardless of their social backgrounds.
The Liberian Chief Executive said his administration harbors the firm belief that the youth of today are the leaders Liberia needs right now, not just in the future, stressing that "This is our time, and together, we will shape the destiny of our beloved nation."
He recalled witnessing the struggles of parents trying to provide for their children, especially in terms of affording their education. 
The CDC First Partisan maintained that such experience ignited the fire in him to create change.
"It was the catalyst that led to the formation of the Congress for Democratic Change two decades ago. We were a group of Liberians tired of the failures of the old order, particularly its impact on the youth of our nation. We came together to make a stand, to make a difference," he said.
"We united because we could no longer tolerate the same old politicians who talked about problems without offering solutions. We could not stand idly by while children were denied an education and our infrastructure crumbled."
He said that triggered the need to usher in a new era—an era of young leaders who are practical, dedicated, and ready to confront national challenges head-on because they had realized the country's position among the nations of the world was slipping away. 
The Liberian Leader proudly announced that they are well on the way to fulfilling the vision of the Pro-poor Agenda.
President Weah informed the jubilant partisans who defied the drenched weather that he will soon embark on a journey to every town and village, reminding every Liberian of the need to stand with the unprecedented level of development taking place in the country. 
He reminded all that "Liberia is a nation with immense potential, and together, we will unleash that potential," pledging to build a Liberia that thrives, and a Liberia where every young person has the opportunity to succeed. 
The President vowed to rededicate himself to the singular purpose of working tirelessly to bring about the prosperous future all Liberians deserve.
Extending olive branch
The CDC standard-bearer used the occasion to express regret that some of those who started the journey but are no longer with the party, saying that their dream of a better Liberia lives on through the leadership.
He similarly extended an open invitation to all former members of the CDC who have left the Party for any reason whatsoever to come back home to the family they once belonged.  
"Whether it was because of dissatisfaction, disappointment, disrespect, disgruntlement, disenchantment, or any other "dis", let all bygones be bygones, and come home to join hands with your brothers and sisters in this great commission for victory."
"Whatever you think we did to you that hurt your feelings or your pride, PLEASE FORGIVE US!, and Whatever you might have done to us that may have hurt our feelings or our pride, WE FORGIVE YOU."
The task ahead of is formidable, he said, but not insurmountable, and stressed that it calls for all hands on deck while looking forward to welcoming them back with open arms and with warm hearts.
    
The President expressed gratitude and humility for the mammoth presence of partisans, supporters, and well-wishers and described the moment as a testament to the collective vision they share for a brighter and more prosperous Liberia.
He also expressed heartfelt appreciation for the trust and mandate you bestowed upon him six years ago, classifying it as a responsibility he has carried with the utmost seriousness and dedication.
He used the occasion to announce Mr. Len Eugene Nagbe, Commissioner General of the Liberia Martine Authority, as Campaign Manager of the CDC.