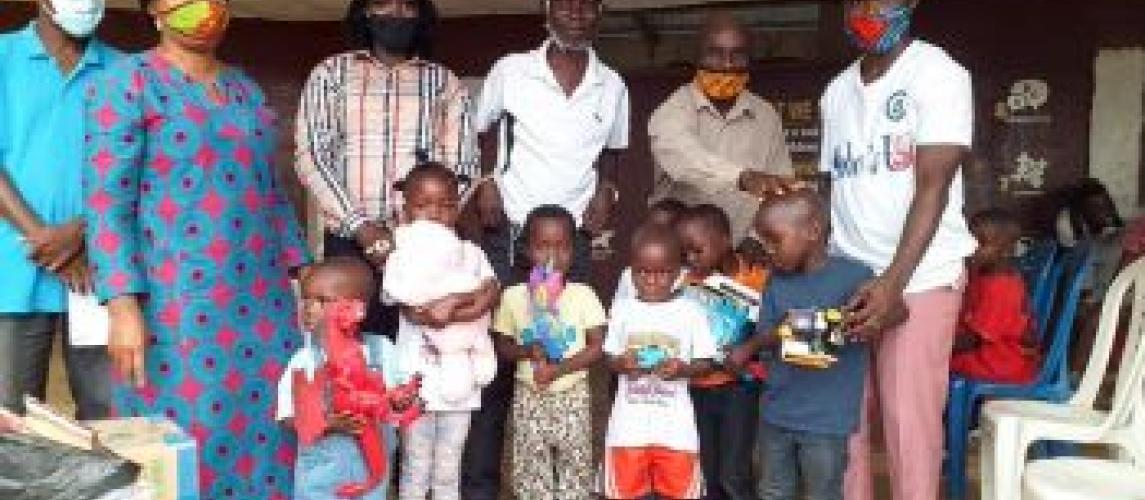 First Lady, Gender Ministry Put Smiles on Children's faces
Hundreds of less fortunate children in Montserrado and Margibi Counties were in a rather jubilant mood at their respective orphanages on Monday, August 24, as Liberia observed its 173rd National Flag Day. 
Though they did not attend the official programs marking the day at Ministerial Complex, yet the momentous joy associated with such a holiday, was never taken away by their 'being-home.' 
This follows a joint outreach initiative by the Office of First Lady Clar Marie Weah along with the Ministry of Gender, Children and Social Protection, distributing assorted food and non-food supplies to the children.
The items which included toys and used clothes along with biscuits, candies and juices among others were donated to at least thirteen orphanages across Monrovia and Margibi Counties.
Speaking during the distribution of the items, the First Lady's Director of Press, Arthur T. Y. Douglas, Jr. reiterated the First Lady's concern and care about the welfare of the less fortunate people especially the children.
Mr. Douglas said the First Lady's aim is to see that Liberia children are healthy and happy as they go through the stages of development into productive citizens of tomorrow.
He stressed that as the First Lady had always done, the Flag Day gesture was intended to put smiles on the faces of the underprivileged children, enabling them celebrate in grand style while at home.
The First Lady's Director of Press also conveyed Mrs. Weah's call for everyone to stay safe for following the health protocols and to stand together in ending rape and all forms of sexual gender based violence in Liberia.
Also speaking, Deputy Gender Minister Alice Howard disclosed that her Boss, Minister Williametta Tarr and the entire Ministry were pleased to identify with orphans particularly on national Flag Day.
Honorable Howard said despite the challenges it was important that the children celebrate and enjoy the day, urging that they should also reflect and cherish the national flag.
Among the thirteen orphanages that benefited from the gesture were Francis Giaskin, Christ Our Hope, Rock of Devine, Phebe Gray and Danny Fenny.
Others are Amazing Grace, Mother Victoria Thomas, Life Village, Calvary Mission, Center for the Age and Children Rescue Center among others.
For their part, the proprietors of the various orphanages expressed gratitude to the First Lady and the Ministry of Gender for their usual unwavering support to the welfare of the children. 
Reverend Emmanuel of Francis Giaskin Orphanage, Apostle Fatu Smith of the Rock of Devine Orphanage and Mother Fatu Bimba of the Christ Our Hope Orphanage, among others disclosed that the gestured boosted the children's hope.
-30-