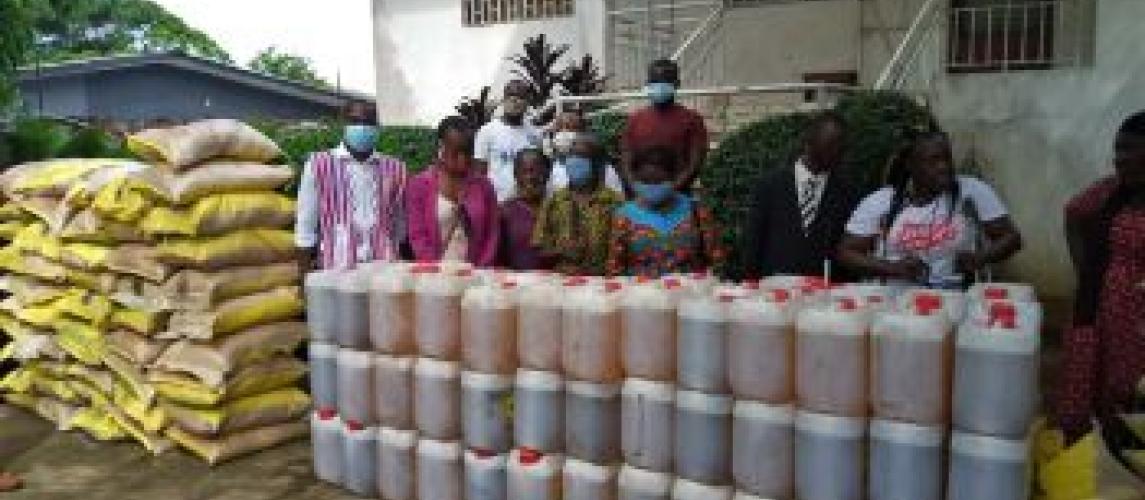 First Lady Identifies with Disable Community …donates to 100 less fortunate, physically challenged families
At least one hundred families of persons with various forms of disabilities are now breathing a sigh of relief following the intervention of Her Excellency Clar Marie Weah, First Lady of the Republic of Liberia, to address concerns surrounding livelihood support.
Mrs. Weah's Clar Hope Foundation in collaboration with Merck Foundation presented a huge consignment of assorted food items to an initial 100, out of 260 underprivileged families targeted, in Montserrado and Margibi Counties. Clar Hope Foundation (CHF), a non for profit, apolitical charity founded in 2018, aims at creating an equitable society in Liberia where women and children are healthy, educated and fully empowered to lead a prosperous life. 
The donation, including 100 bags (25kg each) of rice along with 100 (three-gallon) containers of vegetable oil, was handed over to the National Union of Organizations of the Disabled (NUOD), the umbrella body of disabled people in Liberia on Friday, June 5, 2020.
During a brief presentation ceremony at NUOD's Headquarters in Monrovia, the First Lady's Chief of Office Staff, Gaelle Mediem, expressed Mrs. Weah's delight over identifying with the underprivileged people in supporting the Liberian government's efforts to combat the deadly Covid19 pandemic. 
"The First Lady identifies with you, that's why we are here today," said Gaelle. "She (First Lady Clar M. Weah) is you! She total understands what you are going through especially now, during this time of difficulty around the whole world.".
Madam Mediem stressed that as 'Mother of the Nation', Mrs. Weah continues to play a significant role in buttressing government's efforts to address the pertinent needs of Liberians. She however noted that while Mrs. Weah was eager to help, she does not have all the resources at her disposal. According to her, the First Lady continues to engage various partners for assistance and that this intervention is a fruit of such engagements. 
"We have to go out and ask for help; and we got help today from Merck Foundation, which is why we are here to present to you a donation," said Madam Mediem as she thanked Merck Foundation for the support. 
Merck Foundation, established in 2017, is the philanthropic arm of the Merck KGaA Germany which aims to improve the health and wellbeing of people and advance their lives through science and technology. Through the Community Support component of its response to the pandemic, Merck Foundation is partnering with 18 African First Ladies, including Liberia's Clar 
M. Weah, to support the livelihood of hundreds of women affected by Covid19 lockdown. Only 260 families are being supported under this initiative in Liberia.  
Madam Mediem continued: "We have selected a hundred families to provide you with rice and oil; because in these difficult times there is also the crisis of feeding. The First Lady will always have you on mind; it is just a matter of time."
Prior to the presentation, dozens of the beneficiaries were given a face mask each as means of helping them to continue to adhere to health authorities' advise and stay safe.  
In response to the donation, the President of the Nation Union of Organizations of the Disabled, Madam Naomi B. Harris thanked the First Lady and Merck Foundation for the gesture. 
"I am overjoyed for this day!" Madam Harris said, beaming with smiles. "I want to extend my thanks and appreciation to her for coming this time to identify with the disabled community through our institution, the National Union of Organizations of the Disabled, NUOD."
The President of the umbrella body of people with disabilities however urged the First Lady to also consider partnering with them in undertaking skills training among other forms of capacity building initiatives to empower persons with disabilities. She said such initiatives would make them earn living and support their families independently.
Also speaking, an advocate for persons with disabilities, Daintonwon Pay-bayee thanked Mrs. Weah for the donation. 
"We are so happy! Even when you (Gaelle Mediem) called me and said we wanted 80 family heads and later increased it to 100, it was like great joy to me," said Madam Pay-bayee. 
The direct beneficiaries of the initiative are mostly physically challenged and elderly persons along with their families. Considering the average Liberian family size of at least 10, this first face of the initiative would cover at least 1,000 persons while the entire initiative seeks to serve nearly 3,000 persons. 
This intervention by Mrs. Weah is not the first neither the second since the outbreak of the pandemic in Liberia. She has always shown and continues to show love and care for her people. Since March 2020, Mrs. Weah is continuing an awareness campaign, using her voice to mobilize and admonish Liberians to follow health protocols and stay-safe. She has provided over 1,000 faucet buckets for handwashing along with detergents and huge supplies of assorted food benefiting several communities and over 30 orphanages in Montserrado and Margibi Counties, the worst.