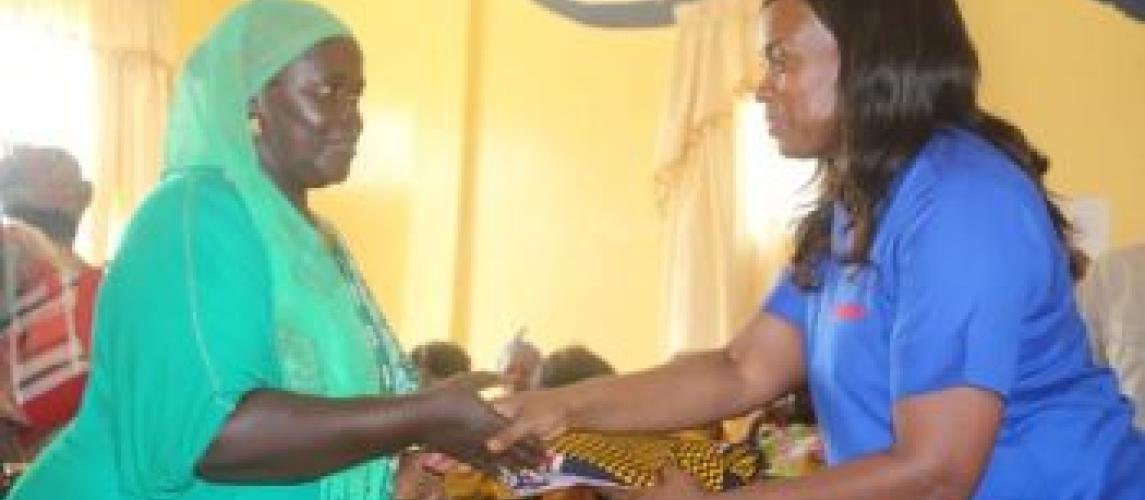 First Lady Office Celebrates 1st Anniversary of Elderly Feeding Program
Monrovia, Liberia - Celebrating the First Anniversary of First Lady Clar Weah's Monthly Elderly Feeding Program, hundreds of beneficiaries of the Program have expressed profound gratitude to Mrs. Weah for her always standing with disadvantaged people.

During a brief ceremony at the SKD Sports Complex Thursday, April 25, the beneficiaries, most of them elderly, poured out gratitude upon gratitude upon the First Lady for food rations she provides them monthly.

According to the beneficiaries, the First Lady's monthly provision initiative continues to improve their nutrition status and reduces the daily hassles they had faced in fending for themselves.

"I thank God for the First Lady because this is the first of its kind we are receiving regular food rations," exclaimed an elderly woman, Mamie Wanda, one of first beneficiaries of the First Lady's food handouts that were rationed April 26 last year.

"We are begging around town no more. The food the First Lady is providing relieves us from buying rice, oil, beans, sugar, milk, fish and many other things," Mrs. Wanda explained as she could not stop praising and praying for the First Lady and her husband, President George Manneh Weah.

Also speaking was Emmanuel Gbaya, a visually impaired elderly man and a father of eight, who disclosed that the First Lady's Elderly Feeding Program has been a major source of food for his family since December 2018.

"I appreciate this program 100-percent and pray that the First Lady will continue her good work," Mr. Gbaya said.

The First Lady's Elderly Feeding Program, which provides assorted food rations to the elderly at the SKD Sports Complex on the last Thursday of each month, was initiated on April 26, 2018.

The program is Mrs. Clar Marie Weah's way of helping to address challenges the people, specifically senior citizens, are faced with.

The First Lady, being passionate about improving the lives of the underprivileged Liberians, was unhappy with the difficult and deplorable condition of the elderly across the country and moved to intervene with the monthly rationing of food to carefully selected elderly persons.

Through the feeding program, Mrs. Weah's endeavors to give senior citizens much-needed care and dignity as they go through old age.

For her part, the Director of Social Services in the office of the First Lady, Grace Johnson, conveyed Mrs. Weah's delight that the feeding program was greatly impacting their lives.

Ms. Johnson said the program has distributed nearly fifty-thousand packages of food rations which include rice, beans, oil, fish, sugar, and milk among others.

According to her, the First Lady is eager to extend the program to more elderly people across the country but that the lack of adequate funding remains a challenge.