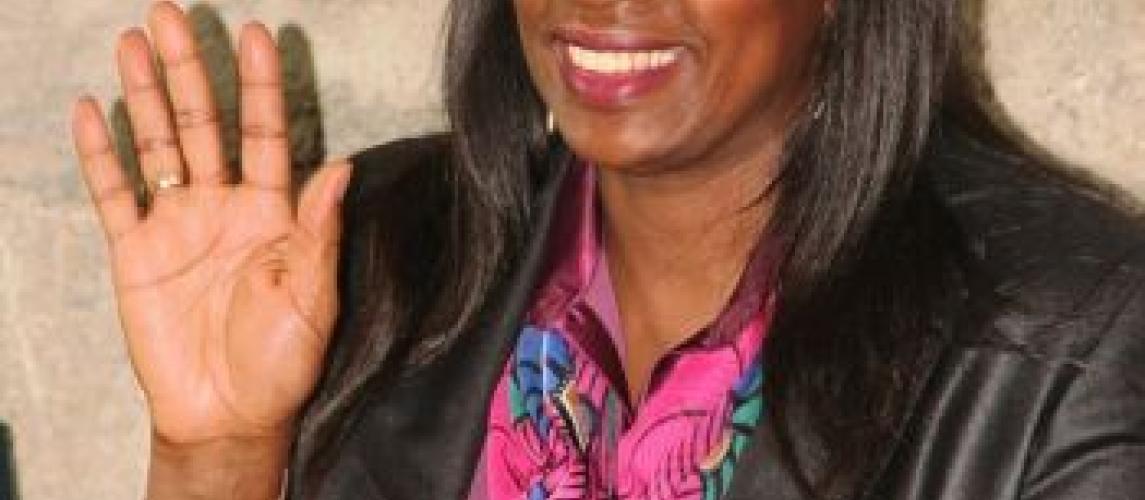 First Lady Weah Runs to the Rescue of Rural Children Schools in Difficult Condition
Monrovia, Liberia - Liberia's First Lady, Clar Marie Weah has assured two public schools in Margibi County of her commitment to assist in transforming their existing deplorable conditions into conducive learning environments.
The Liberian First Lady expressed dismay over harsh conditions under which kids of the institutions have been learning, stressing they deserved better.
Mrs. Weah made the commitment Thursday, February 7, 2019, when she toured two public schools in Shefflin Town and Central Charlesville, Margibi County.
The two government-owned institutions are situated in underprivileged communities along the Robertsfield highway and behind the Roberts International Airport.
Madam Weah observed that the two schools not only lack adequate seats and space to accommodate more students but also wanting of healthy latrines and other important facilities germane to better learning.
Madam Weah was shocked that students, especially girls at Shefflin Town Public School, were using surrounding bushes to ease themselves only because the pit latrines on campus are unhygienic and risky for their use.
The Liberian First Lady assured the students, school administrators and representatives of the Parents-Teachers Association and the community that she would do her best to help improve the situation.
While interacting with the students in their respective classes, Mrs. Weah encouraged them to do their best and learn well to secure a brighter future for themselves, their families and nation.
Speaking on behalf of their respective schools, the principals thanked the First Lady for visiting with them and welcomed her commitment to assist.
Ms. Surprise K. Daykur of Shefflin Public School described the First Lady's visit as timely, stressing that despite being one of the oldest schools in the country, founded since 1888, Shefflin Town Public School lacks basic educational materials and facilities.
For their part, Mr. John B. Yiadom of Charlesville Public School said the First Lady's intervention would bring a sigh of relief not only to the current students population of the school but also to future generations.
First Lady Weah's tour is part of an ongoing inspection to select needy schools for subsequent inclusion into her Foundation's school feeding program and other support initiatives.
The program is the First Lady's way of boosting the Liberian Government's efforts to address challenges in the education sector.
It is being undertaken in partnership with the Beijing based International charity- China Development Research Foundation CDRF.
The project seeks to improve education, health, and nutrition of school-age children through sustainable and cost-effective locally sourced school feeding programs.
It also seeks to increase smallholder farmers' income through structuring market demand from school feeding program and improving their skills in agricultural technology.
Out of twelve schools which are being toured by the First Lady on recommendation by the Education Ministry, only six will be selected.
However, Mrs. Weah disclosed that whether selected or not for the school feeding program, schools in extremely deplorable conditions and dire need of support can count on her intervention.
With the philosophy: "To bless as many people as God has blessed her," First Lady Clar Marie Weah's goal is to improve the lives of the underprivileged people of Liberia in support of the Pro-poor Agenda for Prosperity and Development.
Over the past one year since taking on her new role, Mrs. Weah has transformed dilapidated orphanages and schools into decent structures, giving the students and orphans dignity and quality living.
She is now constructing a 30-room residential complex for the elderly and people with disabilities in Buchanan, Grand Bassa County.
Every last Thursday of the month, the First Lady provides assorted food rations to thousands senior citizens in Montserrado with the aim of simply restoring their dignity and showing love for them.
At least thirty girls are currently being recruited to benefit from an intensive training in China and subsequent employment in Liberia as part of her women and girls empowerment initiative.
Through the Clar Hope Foundation, resources are being mobilized for the construction of a multi-million dollar facility to be known as Clar Hope City.
The facility, to include, rehabilitation, recreation, vocations skills training and academic centers would endeavor to restore the hope of wayward girls and boys who have given up on life.
The goal is the train and make them useful again so as to reach their fullest potential, achieve their dreams and contribute to the development of their country, Liberia.
As a humanitarian and mother, that she will not cease to render needed humanitarian assistance to vulnerable Liberians until she reaches every needy person across the length and breadths of Liberia.